Waste, sorting and recycling
Why sort your waste?
Without waste sorting, no recycling! 50% of our household waste is raw materials! Sorting recyclable waste means ensuring their transformation into new objects and saving natural resources.
Starting point of the whole chain, sorting is essential.
By following simple sorting instructions on a daily basis, everyone positions themselves as an actor in the protection of the environment.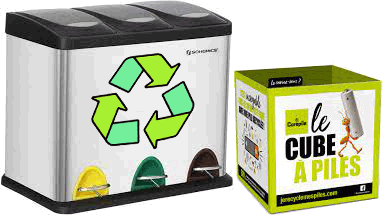 You will find in the hall near the reception a waste sorting bin and a cube under the name of Corépile to deposit your used cells or batteries.
Corépile is an Eco-organization for the collection and recycling of batteries, portable batteries.