Booking a little « hotel de charme » in the heart city of Avignon
Le Colbert is an authentic little « hôtel de charme » located right in the historic city centre of Avignon. The hotel is in a quiet side street and is within
100 metres of the main thoroughfare.


Contact us for booking and get the direct hotel price without commission
This is a non smoking hotel and does not have a lift/elevator
The hotel does not have rooms for people with reduced mobility.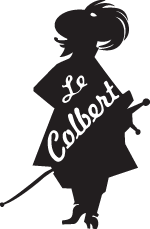 splash
Hotel Le Colbert access print pocket map
Public car park indigo Jean Jaures within 3 minutes walk of the hotel.
The charge is 14 € for the' night with a maximum of 20 € for 24 hours staying.
There are discounted rates for longer stays.
The hotel is within a short walk of the TGV shuttle train service,
and the main train and coach stations.