Boutique Hotel Avignon: Le Colbert
Hotel information and facilities
How to get to the hotel Le Colbert ?
Le Colbert charming and characterful hotel, you will receive a family and friendly welcome, the decoration is authentic and warm like at home.

Located right in the historic city centre of Avignon, 5 minutes of the central station near the square Agricol Perdiguier, 2 minutes of the tourist office and the place des Corps-Saints
in a quiet side street.

Avignon Provence, city of culture, the Pont of Avignon,
The palace of the popes, monuments, collections, museums and of course theater festival of Avignon during july each year, everything make the richness of heritage.

Come and discover is picturesque alleys, garden, restaurants and its flavors and aromas.

Agenda and news Avignon Tourism
This is a non smoking hotel and does not have a lift/elevator
The hotel does not have rooms for people with reduced mobility.
Arrival 2:00 p.m. -- Departure 11:00 a.m.
Individual air conditioning -- Wifi -- Breakfast.
Secure public car park 3 minutes walk from the hotel
Open in season from April 01 to October 31.
We answer to all requests via the contact form
or directly by email within 24 hours.
including during the closing period of the hotel.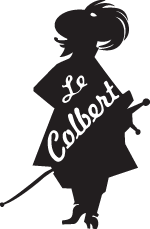 Budget Hotels Come with Great Memories by Rick Steves

A great thing about traveling in France (I think even more than in other countries) is how the characteristic, family-run little hotels survive. Follow me as I greet my host, Patrice, and climb the spiral staircase in my choice in downtown Avignon, Hôtel Colbert. At about $100 for a double room with breakfast, it's about half the price, double the rough edges, and double the memories of a more modern place.
                                     

  

 

 

 

 

 

 

    

  

      

          

Saw on the Guardian. Travel Europe. Avignon holidays
by Kathryn Tomasetti Avignon city guide:

Hotel Le Colbert
With its central location inside the city walls and neat (if a touch kitsch) Provençal décor – a riot of red, orange and yellow, this budget-friendly two-star hotel is one of Avignon's best spots to bed down. Breakfast (€8) – with bread and croissants sourced each morning from the owners' favourite bakery – is served on the sunny patio.

Saw on the Telegraph. Avignon, France: The perfect break.
by Caroline Shearing.

Hotel le Colbert
A quirky and characterful budget option is the two-star Hôtel Le Colbert (0033 4 90 86 20 20), which is peacefully situated on rue Agricol Perdiguier. Rooms are vibrant in colour, ochre with accents of orange, and film and theatre posters adorn the walls throughout.

Saw on Frommer's. Destinations›Europe›France›Provence
and the Riviera›Avignon›Best Hotels.
Hotel le Colbert
This cheerful little hotel is Avignon's best budget option. It's well located just north of the town's train station, yet inside the city walls. The hotel manages to be both quiet—due to its position on a side street—and with easy walking distance of Avignon's action. Comfortable guestrooms are painted in warm tones and decorated in traditional Provençal textiles. During sunny weather, breakfast (10€–12€) is served at colorful tables on the patio, under palm and olive trees. Note that the hotel does not have an elevator.
4.7 out of 5 on Google Reviews
Discover more than 80 reviews of
our customers on our page.


Google My

 Business.



Booking Avignon Hotel Le Colbert. No commission fees. Best rate guaranteed. Instant confirmation.
Secure booking via Reservit interface technologies.Excellent location.
Languages ​​spoken French, English.