A little « hotel de charme » in the heart of Avignon
Le Colbert is an authentic little « hôtel de charme » located right in the historic centre of Avignon. The hotel is in a quiet side street and is within
100 metres of the main thoroughfare.
This is a non smoking hotel and does not have a lift/elevator
Open between April 01 and October 31 st
All email enquiries received while the hotel is closed are answered within 24 hours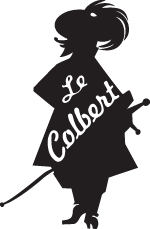 splash
Hotel Le Colbert access print pocket map
There is a public car park within 2 minutes walk of the hotel.
The charge is maximum 20 € for 24 hours staying.
There are discounted rates for longer stays.
The hotel is within a short walk of the TGV shuttle train service,
and the main train and coach stations.