A little « hotel de charme » in the heart of Avignon
Le Colbert is an authentic little « hôtel de charme » located right in the historic centre of Avignon. The hotel is in a quiet side street and is within
100 metres of the main thoroughfare.
This is a non smoking hotel and does not have a lift/elevator
Reception 07:00 am to noon and 1.00 to 08:00 pm
Open between April 01 and October 31 st
All email enquiries received while the hotel is closed
are answered within 24 hours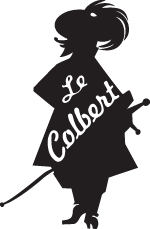 Tripadvisor : Ranked Number 6 of 70 Hotels in Avignon
Hotel Le Colbert access print pocket map
There is a public car park within 2 minutes walk of the hotel. The charge is 20 € for 24 hours.
There are discounted rates for longer stays.
The hotel is within a short walk of the TGV shuttle bus service,
and the main train and coach stations.